In Memory of Michael S. Bruno Jr.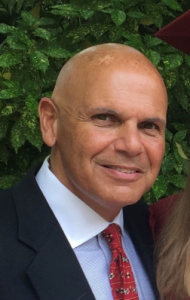 Stonebridge Partners is deeply saddened by the sudden passing of its Managing Partner, Michael S. Bruno Jr., on August 13, 2019. Mike was our partner and mentor, but foremost he was a friend. His indomitable spirit and passion were inspirations to all who knew him.
After graduating from Allegheny College and the Columbia Business School and spending nine years at Salomon Brothers, Mike joined Stonebridge in 1987 shortly after the firm was founded. Mike affectionately called himself the "first employee" of Stonebridge Partners, and soon thereafter became the firm's Managing Partner in 1989.
The centerpiece of Mike's character was integrity. His keen intuition, persistent determination and quick responsiveness brought a unique style that translated into success throughout Mike's career. He was a caring friend, role model and business partner with an uncanny ability to show genuine interest in and befriend everyone.He was a passionate leader in his business affairs and a loving and committed husband, father and family man. Mike was a man of his word and loyal to the core. His legacy will be with us forever as we grieve his loss now and memorialize the many valuable life lessons learned from his examples as Stonebridge moves forward.
He is survived by his wife, Meg, their children Mike, Russell and Price, Russell's wife Spencer, and his grandson Parker. Donations may be made in Mike's memory to:
Pediatric Cancer Research at Memorial Sloan Kettering
in Memory of Michael S. Bruno Jr.
Attn: Rachel Flannery
Memorial Sloan Kettering Cancer Center, Office of Development
P.O. Box 27106
New York, N.Y. 10087
Online: http://mskcc.convio.net/goto/michaelsbrunojr