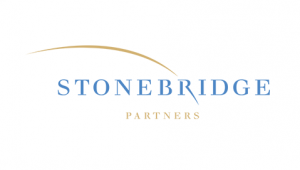 Stonebridge Partners is pleased to announce that Stephen A. Hanna and William G. Connors have been named Managing Partners of the firm and members of its Investment Committee. As part of the leadership succession, Timothy W. Fulham, former Managing Partner, will move to an advisory role and continue as a board member of several Stonebridge portfolio companies.
Andrew A. Thomas is continuing as a Partner and member of the Investment Committee, and Michael A. Steinback and David R. Schopp are continuing as Senior Operating Partners and Investment Committee members.
Tim Fulham commented, "the leadership transition to Steve and Bill completes a planned succession designed to best position Stonebridge for the future. They have a combined 43 years with Stonebridge and have been involved in every one of the firm's acquisitions in the last 23 years. Their knowledge of a variety of industry sectors, as well as their ability to source, finance, oversee and exit investments positions the firm and its investors for continued success."
"The Stonebridge team has the utmost gratitude for Tim's leadership and dedication during a critical period in the firm's history," Bill Connors noted.
---
Steve Hanna joined Stonebridge in 2002. He currently leads the sourcing of new investments and is actively involved in all aspects of Stonebridge's business, including due diligence, financing, acquisition negotiation, portfolio company oversight, and exit strategy. In his tenure at Stonebridge, Steve has participated in the acquisition of 17 portfolio companies and add-on acquisitions. He has been an observer and member of the board of directors of 12 portfolio companies. Prior to joining Stonebridge, Steve spent six years in the leveraged lending group of IBJ Schroder after two years with Chemical Bank.
Bill Connors joined the firm in 1998. He is actively involved in every aspect of Stonebridge's investments as well as administration of the internal operations of the firm. Bill is responsible for evaluating investment opportunities, structuring and financing investments, and providing ongoing financial and operating oversight to portfolio companies. He has participated in the acquisition of 30 portfolio companies and add-on acquisitions. Bill has been a board member/observer of 16 portfolio companies. Prior to joining Stonebridge, Bill spent five years in the Business Advisory Services Group of PricewaterhouseCoopers after three years at PKF International, a worldwide consulting and accounting firm.
We are also pleased to announce that Jacqueline I. Kepple has been named Chief Compliance Officer of Stonebridge Partners. Jackie joined the firm in 2019, was promoted to Chief Financial Officer in early 2021, and has been an invaluable member of the management team.